Coach Tamela, JUST joined the team. She is coming to training in JULY. BUT, as you may or may not no
the moment your onboard we don't wait around too see you at training to get the ball moving. Our inside sales team begins to make calls on your SCHOOLS and not only train you on how to open up new accounts, but to help you
create buzz, excitement and YES open new school accounts for you when possible!
Whats so exciting is our inside sales team has ALREADY opened up 4 new school accounts for Coach Tamela and she's still 4 + weeks away from LIVE training! That is $1000's of dollars she's already earning!
YES, we will do the same for you!!  Watch this 30 Second video to see Coach Tamela's new school accounts and check out here story below: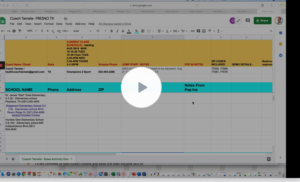 My name is Tamela Funchess. I have a wonderful husband of 14 years, Chris, and we share our beautiful 5 year old daughter, Amaris. I was born an raised in Texas were I currently reside. Personally, I love cooking, traveling, juicing, and talking to others about healthy lifestyle choices. Professional, my background is very diverse. My undergrad is in Hotel and Restaurant Mgmt, I have a MBA, I am a certified health coach, and I taught grades 6-12 for 12 years. Currently, I am the Director of Child Nutrition for a local charter school.
While I have enjoyed my career in the education industry, I'm at a point in my life where I want to be in control over my own destiny. I chose Tennis Time because out of all the franchises I reviewed, it seems to be the one most aligned with my lifestyle and values. I feel strongly about the fight against childhood obesity and know that keeping children active is important. Also, I am comfortable working with children and hope that by owning my own Kids Sports business, I will empower my daughter to think outside the box and find a career that makes her happy. I am a firm believer in if you find your passion, money will find you.
I am very excited to be a part of this team of business owners and look forward to growing my business while having  a positive impact on the lives of our children ❤
If you love kids, sports and making money, then set up a CALL with Coach Greg To get all your questions answered and lets help you make BIG MONEY teaching Little Kids! Time to make your small fortune.
See if you would be a good fit to launch a kids sports business in your LOCAL AREA Fill Out This Form
#GregSkollar #CoachGreg #TennisTime #golftime #Kidssportsbusiness